Dean, Faculty of Social Sciences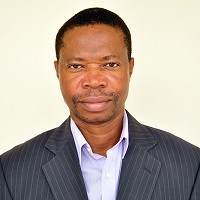 Prof. OMITOLA Bolaji Olumuyiwa, B.Sc, M.Sc, Ph.D
Dean, Faculty of Social Sciences
Email:
Bolaji Olumuyiwa Omitola, a professor of political science is currently the Dean, Faculty of the Social Sciences, Osun State University, Nigeria. Prior to this appointment Dr. Omitola served as Director, Entrepreneurial Studies, Acting Dean, Students' Affairs of the University and Head of Department of Political Sciences in the College of Management and Social Sciences of Osun State University, Okuku Campus. Prof. Omitola attended University of Lagos, Lagos from 1987 to 1991 for his undergraduate education programme and University of Ibadan, Ibadan for his postgraduate programmes between 1993 and 2008. He obtained Bachelor of Science, Political Science (with Second Class Upper Division) in the year 1991; Masters in Political Science (with Specialisation in Public Administration) in 1994 and PhD in Political Science in 2008.
Dr. Omitola started his teaching career in The Polytechnic, Ibadan in 1994 as an Associate Lecturer in General Studies. He later joined the service of Olabisi Onabanjo University in 1996 as Assistant lecturer in the Department of Political Science in 1996. In the year, 2010, he joined the service of Osun State University and became the Acting Head of Department of Political Science in April of the year 2010.

Prof. Omitola lectures and conducts research in the following areas: political institution, comparative politics and public administration. This is reflected in his research that have interrogated issues like Nigerian federalism, party system and political parties conflicts, ethnicity, ethno-regional agitations, religious fundamentalism, resource distribution, terror and security. He is involved in various committees assignment within the university.
He has published in local and international journals and peer reviewed books. Some of the publications include; "Women and Political Participation; State Sponsored Participation, Mass-Based or Organization Participation, Ife Social Sciences Review, Journal of the Faculty of Social Sciences, Obafemi Awolowo University, Ile-Ife, Nigeria, Special Edition, July: 170 - 176, 1998; "June 12 Election: A Paradoxical Episode in Nigerian Ethnic Power Play," Journal of the Nigerian Anthropological and Sociological Association, Ile-Ife, Special Edition, July: 88-98, 2000; "Federal Democracy and the Limits of Anti-corruption Crusade in Nigeria", Journal of Public Administration and Management, South-Africa Association for Public Administration and Management, Hatfield, 44 (3.2):195-206, 2009; "Regional Integration: Challenges and Prospects of African Union", Nigerian Journal of International Affairs, Nigeria Institute of International Affairs, Lagos, 35 (2): 49-72, 2009; "Nigerian Public Service Reforms and the Fourth Republic Experience: Challenges and Prospects", Journal of Sustainable Development in Africa, Pennsylvania, Clarion University, 14(8): 76-93, 2012; "Terrorism and Nigerian Federation: The Challenges of Disintegration in the Fourth Republic", African Security Review, Rutledge, Taylor and Francis, London and University of South Africa, 21 (4):4-16, 2012 and "Global War on Terror on Africa from Below: Challenges and Prospects of People's Participation" In: Mammo Muchie et al (ed.) Regenerating Africa to Bring African Solutions to African Problems, Pretoria, Human Sciences Research Council and Africa Institute of South Africa, 2016.
He has also been awarded scholarship, fellowship and grants from the following organizations:
African Political Science Association: Small Research Grant, 2001, laureate Methodology Workshop, 2001 and Travelling Grant, 2004; African Studies Association of United Kingdom Traveling Fellowship, 2011; Institute of Security Studies (ISS), South Africa to participate in the ISS Conference on National and International Perspective on Crime Reduction and Criminal Justice in Johannesburg: 2012, 2013, 2014; African Institute of South Africa (AISA) to participate in the Annual African Unity for Renaissance Conference and Africa Day Expo: 2014, 2015, 2017 and Tetfund Research Grant from the Federal Republic of Nigeria, 2016.
Prof. Omitola currently serves as External Examiner to some universities in Nigeria; these include Kwara State Universities, Malete, and University of Ilorin, Ilorin.