UNIOSUN Health Services Policy Document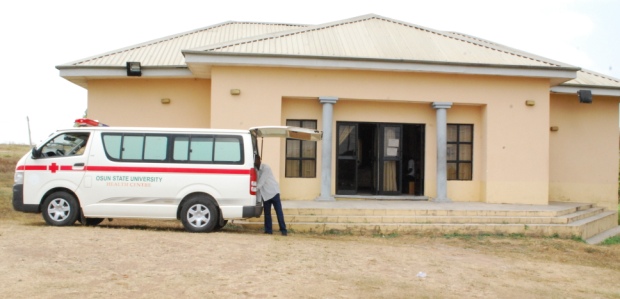 ESTABLISHMENT
The Health service was established to meet the health needs of the University community through the following:
1. Provision of quality health care services (comparable to similar establishments) to the students of the University.
2. Provision of appropriate health care services to members of staff and their families as defined by the University law.
3. Providing timely relevant information on current health issue to the University community and public in general.
OBJECTIVES
I. Provide medical and surgical consultation to the clients.
II. Provide basic medical emergency services.
III. Provide limited admission facility e.g. Observation for up to 24hours.
IV. Maintain health records of registered clients.
V. Provide appropriate referral.
VI. Provide follow up services post referral.
VII. Provide leadership in environmental, work-place and Public Health in the University
Campuses.
VIII. Perform any other function as may be directed by the University.
ORGANIZATIONAL STRUCTURE
There is a University Health Management Committee that formulate policies and surpevices the Health services. Deputy Vice Chancellor is the Chairman. Other members of the Committee are Provost College of Health Sciences, Director of Health Services, Deans of Faculties from College of Health Sciences, representatives of the Registrar.
There are six University campuses and each has One Health centre, namely Osogbo, Okuku, Ejigbo, Ipetu-jesa, Ikire and Ifetedo.
Each Health centre shall have the following units: Medical, Nursing, Pharmacy, Laboratory, Health Information and Environmental. However only the first two is functional as at now.
Osogbo Health centre is the headquarters both administratively and functionally, see the Organogram for more details.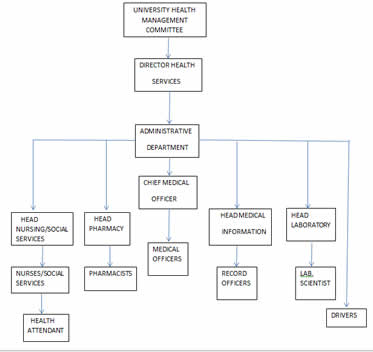 FINANCE OF THE HEALTH SERVICES:
i. The health care service is being financed from annual budget (grant) from the University.
ii. The Capitation from enrolee when the university commences the operation of National Health Insurance Scheme (NHIS) for staff and Tertiary institution social health insurance programme. (TISHIP)
iii. Sundry donations.
NB: ii and iii are yet to be in operation