Acting Dean, Faculty of Humanities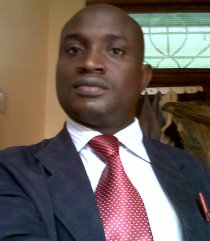 Dr. AKOH Ameh Dennis, B.A, M.A., Ph.D

Dean, Faculty of Humanities
Email:

Dr Akoh is an Associate Professor of drama and critical theory in the Faculty of Humanities, Ikire Campus. He attended the universities of Jos and Ibadan, Nigeria where he also taught for some years.
He was Head of the Department of Languages and Linguistics of Osun State University (2010-2012); Sub-Dean (2006-2009) of the Faculty of Arts and Humanities at the Kogi State University, Anyigba, Nigeria where he taught for seven years. His areas of research interest include critical theory, dramatic criticism, sociology of literature and theatre, gender, postcolonial and cultural studies.
He has over 40 publications in refereed local and international journals and books. He is former Editor of the Nigerian Journal of Indigenous Knowledge and Development, Editor of Nigerian Theatre Journal (NTJ), Co-editor of African Nebula and the UNIOSUN College of Humanities Monograph Series. He has co-edited (with Stephen Inegbe) Arts, Culture and Communication in a Postcolony (Alpha Crownes, UK, 2013) and Intersections in the Humanities (co-edited with O. E. Alana) is already in press.
Dr Akoh is a Fellow of the Corporate Administration Institute of Nigeria and a 2013 Society of Nigerian Theatre Artists (SONTA) Lifetime Achievement Award winner. He is listed in the Year's Work in English Studies (YWES) Index of Critics. In 2010, he was nominated visiting scholar to the University of Cape Town, SA. He is a 2014 AHP postdoc fellow of the American Council of Learned Societies (ACLS).