Acting Dean, Faculty of Education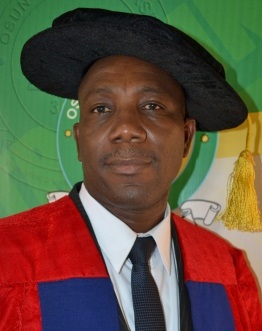 Dr. Anthony Kola-Olusanya, B.Sc, M.Sc, PhD
Acting Dean, Faculty of Education
Anthony Kola-Olusanya, PhD is presently a Senior Lecturer in the Department of Geography, Faculty of the Social Sciences, College of Management and Social Sciences, Osun State University. He received his PhD from the University of Toronto, specializing in Environmental Sustainability. He has honed his teaching and research skills at the Osun State University, Nigeria; Queen's University, Kingston, Canada and the Lagos State University, Nigeria.
His research interests include human dimension of environmental crises, resources and environmental management, sustainable development (green growth and economy), environmental sustainability, resources and environmental management, indigenous environmental practices and management, as well as socio-environmental issues arising from environmental degradation and climate change. He has presented papers on wide ranging environmental issues including human dimensions of environmental problems, at numerous national and international conferences. As well, Dr. Kola-Olusanya has also published in both local and international learned journals and has contributions in books.
In 2013, Dr. Kola-Olusanya was a Visiting Scholar at the Centre for Environmental Philosophy, University of North Texas, USA. He is a member of several academic and professional organizations including Association of Nigerian Geographers, Environmental Management Association, International Water Association (IWA), Environmental Studies Association of Canada (ESAC) and Academy of Human Resource Development (AHRD) to name a few. In 2014, Dr. Kola-Olusanya was appointed an Associate Expert at the UNESCO Institute for African Culture and International Understanding (IACIU), Olusegun Obasanjo Presidential Library, Abeokuta, Nigeria.
Dr. Kola-Olusanya has served on various university statutory and ad hoc committees including the Appointment and Promotions Committee, Board of Postgraduate Studies, Committee of Deans, Provosts and Directors, Business Committee of Senate, Development Committee. He has been the Vice Dean Student Affairs between 2009 and 2012, Acting Dean of Students' Affairs 2012/2013 academic session. He was also the Acting Dean, Faculty of Social Sciences 2013/2014: Presently he is the Acting Dean of Student Affairs for the University. He is the inaugural editor-in-chief of Annals of Social Science, the official peer reviewed journal of the Faculty of the Social Sciences, Osun State University.