COLLEGE OF HEALTH SCIENCES ANNUAL INTERNATIONAL SCIENTIFIC CONFERENCE JUNE 15-19, 2020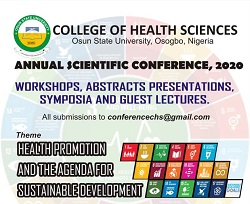 Call for Abstracts and Presentations
Theme: Health Promotion and the Agenda for Sustainable Development
Sub-themes:
- Promoting health via the SDGs
- Achieving universal health coverage how feasible in 2030?
- Strengthening ATM services in Nigeria
Objectives of the Conference:
To explore science, policy, education, program planning, implementation and evaluation to enhance public health approaches and strategies to promote health and the agenda for Sustainable Development in a developing economy;
2. To increase knowledge and awareness of successful cost effective NHIS; and
3. To present innovative strategies to strengthening AID, Tuberculosis and Malaria Services in Nigeria - bridging the gap.
Guest Lecturer:
Professor FATUSI, Adesegun Olayiwola, Director of Research, Allan Guttmacher Institute, USA
& Vice-Chancellor, University of Medical Sciences, Ondo State
For Whom: Practitioners in
a. Health Officials (Local Government, State and Federal Levels)
b. Corporate Health Organizations (Both governmental and non-governmental)
c. Health related NGOs
d. All Health Sciences Undergraduates, Postgraduate Students and Healthcare Practitioners
e. Universities, Polytechnics, Colleges of Education, Nursing Schools, Monotechnics
Registration Fee: Download Flyer for more details
This will include conference materials, bags and tea break, lunch and dinner
Date: June 15 - 19, 2020
Time: 8am – 6pm daily
Venue: Prince Olagunsoye Oyinlola Auditorium, Osun State University, Osogbo, Osun State, Nigeria (June 17 only)
MicCom Golf Hotel, Along Ibokun Road, Ada, Ada-Iragbiji, Osun State, Nigeria
Accommodation:
- MicCom Golf Hotel, Along Ibokun Road, Ada, Ada-Iragbiji, Osun State, Nigeria
- Praize Resorts & Hotels, Ada
Side Attraction:
 Program attracts 10 CME units
 Dinner / Cultural night on June 18, 2020
Procedure / Registration: Please ensure you generate your receipt, and upload details https://forms.gle/WWnVuS5MQf4k67fd9
All submissions to &
Preconference workshop:
1) 8am - 1.00pm: Basic Life Support
2) 1.30pm - 3.30pm: Parallel sessions
A - Advance Life Support
B - Session on Immunochemistry, Western Blot and Plastination to be anchored by three specialists.
3) Grantsmanship
Plenary Sessions (I & II): NHIS + Strengthening the health system (AIDs, Tuberculosis and Malaria).
Program: Guest Lecture/Plenary Sessions/Scientific Sessions/Symposia
Distinguished Guest Lecture: Health Promotion through legislation - An agenda for the 8th Assembly.
For more enquiries:
Dr. O. M. Abiodun, LOC Chairman
Email:
Tel. No: +234(0)8033767330