Provost, The Postgraduate College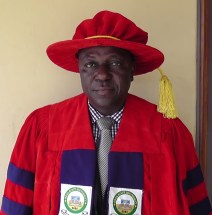 Professor A.W. Gbolagade, B.Sc (Ilorin), M.Sc (Ife), PGD and Ph.D (Ilorin)
Email:
Prof. Alagbe Wasiu GBOLAGADE, a Professor of Mathematics, obtained the Bachelor of Science (B.Sc) degree in Mathematics with Second Class Honour Upper Division from the University of Ilorin, Ilorin in 1986 and Masters of Science (M.Sc) degree in Mathematics from Obafemi Awolowo University, Ile-Ife in 1990. In addition, he obtained a Postgraduate Diploma in Computer Science from Ladoke Akintola University of Technology, Ogbomoso in 1994 and Doctor of Philosophy (Ph.D) degree in Mathematics from University of Ilorin, Ilorin, Kwara State in 1997. His area of specialization is Fluid/Solid Mechanics and Computational Mathematics.
Professor Gbolagade A.W had received several academic scholarship and fellowship awards including the Federal Government of Nigeria Postgraduate Scholarship (1988); Obafemi Awolowo University Fellowship award (1989); UNU-IIST Visiting Fellowship at the University of Calgary, Canada (2005). Professor Gbolagade had supervised undergraduate and postgraduate research works. He had also served in several administrative capacities within the University system including membership and chairmanship of several Academic Committees and as Head of Department of Mathematics. He was also an External Examiner of Postgraduate Programme in Mathematics at the Federal University of Technology, Minna, Niger State.
In Osun State University, Osogbo, he served as the Head of Department of Mathematical and Physical Sciences (2009-2010); Director of Foundation Degree Programme (2010-2011 Academic Session) and Provost of the College of Science, Engineering and Technology (August 2011 till date).