He canvassed for the support of the industrialized world particularly the the United States, in granting more help to developing countries to deal with the menace of climate change and in putting in place necessary technologies, and governance systems.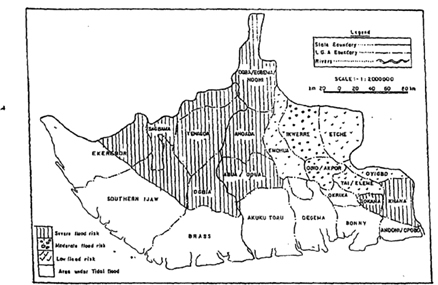 Spatial Variations in the Level of Flood Risk in Niger Delta.
Source: (Ologunorisa, 2001, 2004)
Professor Temi E. Ologunorisa was born on the 20th October, 1966 to Pa Gabriel Adelabu Ologunorisa and Madam Grace Bamidele Ologunorisa. Professor Ologunorisa had his B.Sc (Hons) Degree in Geography (with minor in Geology and Botany) from the University of Ibadan, Nigeria in 1988; M.Sc in Hydrology and Water Resources from the Faculty of Environmental Science, University of Jos in 1991; and a Ph.D in Climatology from the University of Port Harcourt, Nigeria in 2002.
He started his teaching career with his appointment as an Assistant Lecturer in Geography in May 1991 at the Rivers State College of Education, Port Harcourt and after seven years in the College of Education system, he joined the services of the University of Port Harcourt as a Lecturer in February 1998. Through dint of hard work, he had a meteoric rise to the rank of Professor of Climatology at the Osun State University, Osogbo, Nigeria in October 2007. By this appointment, he became the first Professor to be appointed by the. His research interests cover broadly climatic hazards and vulnerability studies; flood hydro-climatology, air pollution meteorology, climate change impact assessment and climate change policy. He has been a consultant on many environmental projects to Mobil Oil Producing Unlimited (now Exxon Mobil); Agip Oil, Federal Ministry of Mines and Power, Environment, the British Council and the Lagos State Government. Professor Ologunorisa has published widely as he has over 100 publications to his credit made up of 50 articles in national and international journals; l2 chapters in books, 3 books, 2 monographs, 10 edited books; 20 published conference proceedings and 6 technical reports. Perhaps the quality of his contribution to knowledge can be better appreciated when one considers the major outlets for his publications which include some of the top 10 journals of geography, environment and meteorology/climatology in the world. These include: The International Journal of Environmental Studies (UK); The Environmentalist (The Netherlands). The International Journal of Theoretical and Applied Climatology (Germany), International Journal of Climatology (U.K.); Progress in Physical Geography (USA), The International Journal of Meteorology (U.K.); The International Journal of Sustainable Development and World Ecology (U.K); Journal of Sustainable Development (Canada); Journal of Modeling and Simulation Techniques in Enterprises (France), among others.
He is a recipient of many honours, awards, and academic distinctions. He was awarded the membership of the American Association for the Advancement of Science (AAAS) by special invitation in 2003. He won the international nomination to serve in the International Editorial Advisory Board Member of the International Journal of Meteorology, U.K in 2005, the second person in Africa to serve in the Board. He was a plenary lecturer at the International Association of Hydrological Science Conference held at Exeter College, Oxford University, U.K in January 2007. He was a Visiting Professor to the Department of Geosciences, University of Missouri, Kansas City, USA in summer 2008; Visiting Professor to the Graduate School of Science and Engineering, Tokyo Metropolitan University, Miniami-Osawa, Tokyo, Japan in summer 2009. He was appointed an Honorary Visiting Professor, School of Geography, Population and Environmental Management, Flinders University of South Australia, Adelaide, Australia in 2009. He was a Visiting Professor to the School of Geography and Earth Sciences, McMaster University, Hamilton, Ontario, Canada in summer 2010. He was also a Guest Professor at the Institute of Water, Environment and Health, United Nations University, Hamilton, Ontario, Canada in 2010. He is a Fellow of the European Drought Research Centre, U.K.
Professor Ologunorisa is currently sitting on the editorial boards of over 10 international journals. These include: CATENA published by Elsevier; International Journal of Biometeorology, published by Springer, The Netherlands; Natural Hazards published by Springer; JAMBA published by North-West University, Portchefstron, South Africa; Journal of Applied Geography published by Elsevier among others.
He was the Editor-in-Chief of the Journal of the Nigerian Meteorological Society (2008- 2010) and also the Associate Editor of the Journal of the Association of Nigerian Geographers (2004-2005); Editor for Climatology, Centre for Distance Learning, University of Abuja; Editor, Nigerian Journal of Tropical Geography among other. He is a member of several learned societies such as International Association of Hydrological Sciences, U.K; Royal Meteorological Society U.K; American Geophysical Union; Annals of the Association of American Geographers (AAAG); Tornados and Storm Research Organization (TORRO) UK; Nigerian Meteorological Society; Association of Nigerian Geographers; Environment and Behaviour Association of Nigeria, and Waste Management Society of Nigeria. Professor Ologunorisa has supervised over 20 M.Sc dissertations and currently supervising 2 Ph.D students. He has served as external examiner for M.Sc and Ph.D Degrees in Geography and Environmental Management and Meteorology in many Nigerian Universities including University of Agriculture, Abeokuta (2006-Present); Lagos State University (2007-2009), University of Abuja (2005-Present) among others.
He is actively involved in various administrative duties at the Osun State University in addition to teaching and research. He is a member of numerous statutory and adhoc committees and held many positions of responsibility at the University including Foundation Head, Department of Geography and Resource Management (2007-2011); Foundation Director, Centre for Climate Change and Environmental Research (2008- Present); Foundation member of Senate (2007 – Present); Member, Business Committee of Senate (2007-2009); Member, Appointment and Promotion Committee (Academics) (2007 — Present); Member Research and Publication Committee (2009 — Present); he is currently the Provost of the College of Management and Social Sciences. He is happily married to Folukemi (nee Ale) and blessed with children.
Downloads:

Wednesday, 22 July 2020 18:13

830.88 KB

684