According to him: 'There are many identified factors causing chronic kidney disease, however the prevalence of these factors differ to varying extent in different parts of the world. In Nigeria, some socio-cultural practices can lead directly or indirectly to the development of chronic kidney disease. These include long-term ingestion of herbal concoctions/preparations, chronic analgesic abuse (certain pain killers) and the use of certain soaps/creams/lotions used as bleaching agents. Nigerians should refrain from consumption of medications without prescriptions'.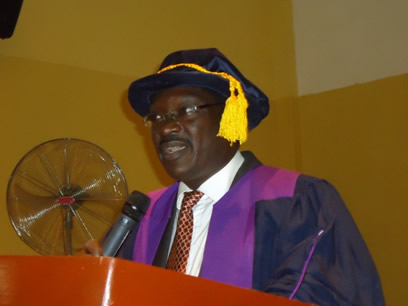 Professor Alebiosu delivering his Inaugural Lecture

He then listed other bad socio-cultural habits associated with kidney disease to include 'the chronic exposure to heavy metals (such as lead found in paints and mercury in soaps etc), and obesity – which is regarded as 'a sign of good living' in Africa men and women'.
To reduce the impact of Non-Communicable Diseases (NCDs) on individuals and society, the don recommended that all sectors, including health, finance, foreign affairs, education, agriculture, planning and others, should work together to reduce the risks as well as promote the interventions to prevent and control them.

Professor Alebiosu is the first Professor of Medicine to deliver an inaugural lecture in the University, the first person to give such a lecture from the Department of Medicine, College of Health Sciences of the University and the second medical Professor of Osun State origin, to deliver Nephrology inaugural lecture on Osun State soil.

The inaugural lecture had in attendance several eminent personalities from all walks of life including traditional rulers, academics and medical students from several other universities. The Principal Officers, Senate members and other staff of the University also attended.
Downloads:

Wednesday, 22 July 2020 18:13

1.02 MB

477