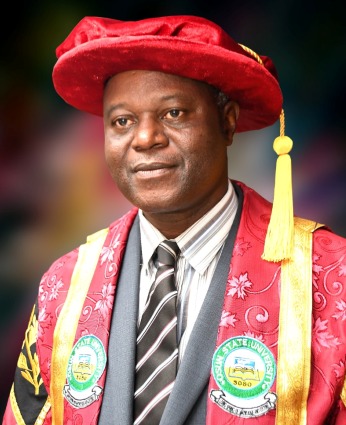 Prof. Odunayo Clement ADEBOOYE
Email: vc@uniosun.edu.ng
Professor Odunayo Clement Adebooye is a Professor of Plant Physiology/Food Chemistry, from the Department of Crop Production and Protection, Obafemi Awolowo University, Ile-Ife. Born on December 18, 1966 to Mr. David Alao Adebooye and Princess Gladys Nihinola Adebooye, he had his primary education at St. David's Anglican Primary School, Akiriboto-Gbongan between 1972 and 1978. Afterwards, he obtained his secondary school certificate at Gbongan Community High School, Ife Road, Gbongan in 1984. In 1985, he was admitted to the then University of Ife (now Obafemi Awolowo University) to study Plant Science, and bagged a B. Agric with upper second class honours division in 1990.
Upon completion of his National Youth Service in 1991, he put in for and bagged an M.Sc.(Agronomy) from the University of Ibadan in 1992. He worked briefly as a Class Teacher at Ikorodu High School, Ikorodu-Lagos between 1992 and 1993, and Lecturer II at the Lagos State Polytechnic, Ikorodu between 1993 and 1995. He returned to the Obafemi Awolowo University as a Graduate Assistant in February 1995, and registered for a PhD in Horticulture/Plant Physiology at the University of Ibadan and earned a PhD degree in 2001.
He rose to the rank of Assistant Lecturer in 1996, Lecturer II in 1998, Lecturer I in 2001, Senior Lecturer in 2003, Associate Professor (Reader) in 2006 and Full Professor in 2009. Professor Adebooye transferred his services from Obafemi Awolowo University to Osun State University, Osogbo in January 2010. After spending ten years working at Osun State University, he was re-appointed as a Professor (without re-assessment) by the Obafemi Awolowo University, where he resumed in April, 2019.
He served meritoriously in the University Governing Council and as Deputy Vice-Chancellor (Academic, Research, Innovation and Partnership) of Osun State University, Osogbo. He also served as Provost/Dean between 2015 and 2016, Director of Research and Linkages between 2010 and 2013, Director of Quality Assurance in 2015, Coordinator for Postgraduate and Undergraduate academic programmes between 2007 and 2009 and Head of Department between 2010 and 2011. He furthermore held the position of Secretary, Academic Staff Union of Universities (ASUU-OAU) between 2001 and 2004. He has served in about 35 statutory committees of Council and Senate within the University system in his academic career.
Professor Adebooye is a respected winner of twenty-five (25) international research grants and about one hundred (100) travel grants, all valued at about US$11.0 million(N5.5 billion). Other research grants on which he participated stand at about US$3.0 million (N1.6 billion). These grants are from Germany, Canada, India, United Nations, Pakistan, TWAS, CTA, CGIAR, etc. He has attended over 100 conferences and meetings in about sixty-one (61) countries worldwide, and has presented invited KEYNOTES at about 20 international scientific conferences.
He played pivotal roles in O-Meals and O-YES operational strategies implemented by the Osun State government, and has won some highly prestigious international and national awards, including being the first Nigerian to win the prestigious Humboldt Alumni Award of the German Government's Humboldt Foundation, which included a cash reward of US$30,000. He also won the best presentation award at the under-utilized plants' conference in Karachi, Pakistan, in 2001 with a cash award of US$1,000. Again, he won the best presentation award at the Food Quality conference at Central Food Technological Research Institute, India, in 2006 with a cash award of US$1,250. He has also been honoured with several local awards.
He has utilized nine (9) fully-funded international research fellowships awarded by the United Nations University; the German Government Alexander von Humboldt Fellowship, German Government DAAD fellowship and Government of Canada IDRC.
He has successfully supervised 10 Postdoc, three MSc, one PhD and currently supervising two PhD and one MSc. His grants provided total funding for nineteen (19) MSc and fifteen (15) PhD candidates in Nigeria, Benin Republic and Canada, and these candidates have all completed their degree programmes.
Professor Adebooye is a believer in Almighty God, a democrat, a family and community man, a critical and seminal thinker, and a philosopher, who detests corruption in all ramifications. He belongs to the crew of radicals who hate oppression and suppression in whatever form. He is happily married to Rita and the marriage is blessed with children. He loves football and draught game.