VC PROMISES TO TAKE UNIOSUN TO GREATER HEIGHTS...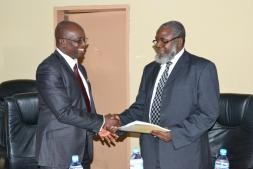 The new Vice-Chancellor of Osun State University, Professor Adekunle Bashiru Okesina,
has promised to take the institution to greater heights. Professor Okesina gave this promise during the hand-over ceremony held in the Council Chamber on Tuesday, April 2, 2013. He solicited support of management, staff and students because the task ahead is enormous.
He thanked the management team for the good work they have been doing during the past eight months. The management led by the Ag ViceChancellor, Professor Ganiyu Olatunde, had earlier congratulated the Vice-Chancellor and pledged loyalty to him.
Professor Okesina was later decorated with the institution's brooch.