INVITATION TO DEPARTMENT​AL SEMINAR PRESENTATI​ON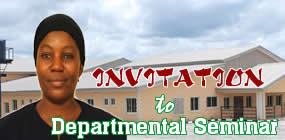 The Department of Anatomy, College of Health Sciences of Osun State University invites all and sundry in the university community to her departmental seminar presentation which will hold on Monday/28th January, 2013, at 10.00 a.m. in the Histology Laboratory, Department of Anatomy, Asubiaro.
The Speaker Mrs. Tewogbade S.O, College Secretary of the College of Health Sciences will speak on the topic 'Departmental Administration in a Young University: UNIOSUN as a Case Study'. Read More...