THE DEPUTY VICE-CHANCELLOR Academic, Research, Innovation and Partnership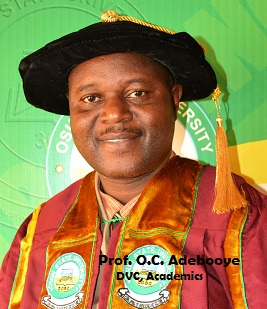 Prof. Odunayo Clement ADEBOOYE
Email: dvcacademic@uniosun.edu.ng, odunayo.adebooye@uniosun.edu.ng

Adebooye, is a Professor of Horticulture/Plant Physiology, a holder of B. Agric.(Plant Science), OAU, Ile-Ife, MSc and PhD (Agronomy/Plant Physiology) from the University of Ibadan, Nigeria. He is also a holder of Certificate in Tissue Culture Techniques (United Nations University, Tokyo). Prof Adebooye started his academic journey at the Lagos State Polytechnic where he worked as a Lecturer III from 1993-1995. He joined the services of Obafemi Awolowo University, Ile-Ife in March 1995 and rose to the post of Associate Professor (Reader) on 1st October 2006. He was appointed Full Professor in September 2009 by Osun State University, Osogbo and he willingly transferred his services to the Osun State University, Osogbo in January 2010. He served at different times as Head of Department (Agronomy), Provost/Dean of College of Agriculture, Director of Research and Linkages and Director of Quality Assurance at the Osun State University, Osogbo, Nigeria. He brought significant positive changes into the University with a serious commitment to academic excellence and propagation of knowledge. He is the serving Ambassador Scientist for the German Government Humboldt Foundation in Nigeria, a position that affords him the opportunity to represent the Foundation at academic meetings and participate in high profile meetings, on behalf of the German Humboldt Foundation. He is also the serving Secretary-General of the African-German Network of Excellence in Science (AGNES) that reviews proposal applications and decides on award of fellowships and grants to African scholars, including from East and Southern Africa region. He is the first Nigerian to serve in this capacity.
Adebooye was announced the winner of 2009 German Humboldt Alumni Scientist Award by the German Government's Humboldt Foundation. The award is valued at 125,000 Euro and he is the first Nigerian to win this highly prestigious award.
To date, Prof Adebooye has won 12 competitive international research grants. The totality of Professor Adebooye's research grants (2011 to date) stands at about twelve million US dollars (US$12.0m) with grants from United Nations, the German, Italian, Canadian and Indian governments. He currently serves on the selection board of three international funding agencies where fellowships and scholarships are granted on a competitive basis.
He is also the serving Regional Project Coordinator for Canadian Government indigenous vegetables (MicroVeg Project), now being implemented in Nigeria and Benin Republic (Project 107983). He served as PhD external examiner for University of Fort Hare, South Africa (2007-2013) and project assessor for the Danish Government (2006-2009) and external examiner to many universities in Nigeria. He has served the African Union at several levels on Agricultural development projects.
He has utilized not less than 7 postdoctoral fellowships around the world. He won the Alexander von Humboldt Foundation (AvH) fellowship in 2006 and German Academic Exchange Service (DAAD) fellowship in 2008 and 2011. He was a postdoctoral researcher at the United Nations University, Mysore-India from 2005-2006 and University of Bonn-Germany in 2006-2007. He was at several times a Visiting Professor at the University of Bonn-Germany (2009, 2011 and 2014) where he taught and supervised postgraduate (MSc and PhD) projects. He worked as Visiting Professor at the University of Hohenheim, Stuttgart-Germany (2011) and German Research Centre, Julich, Germany (2012). He had a brief stay at Cape Breton University, Sydney in 2013.
Using his international reputation, he secured funding and Post-doc Researcher Award for three Nigerian PhD holders in 2013 . In 2014, he secured another award for two lecturers from OAU, Ile-Ife. In 2015, he secured another funding/fellowship for a FUTA lecturer and a UNIBEN Lecturer. He is mentoring these young scholars for higher research assignments.
Professor Adebooye secured a grant which he used to sponsor twelve (12) academic staff of Osun State University to University of Manitoba and Cape Breton University in 2011-2013. He covered the airfare, subsistence and sundry costs. Each person spent one month in Canada.
He has attended about 90 conferences and meetings in about 35 countries around the world. He belongs to many professional associations all over the world including the International Society for Horticultural Science, German Society for Horticultural Science, Japanese Society for Horticultural Science and Horticultural Science of Nigeria, to mention a few. He won the best presentation award at the under-utilized plants conference at the University of Karachi, Pakistan in 2001. He also won the best presentation award at the plant food analyses conference in India in 20006. Professor Adebooye is a world authority on indigenous vegetables research and his work has culminated in a total of about 55 publications in some high profile scientific journals published by Elsevier, Springer, Taylor and Francis, Willey etc.
Adebooye is presently a Professor in the Faculty of Agricultural and Nutritional Sciences, Department of Human Nutritional Sciences, University of Manitoba, Winnipeg, Canada. With this new appointment as Deputy Vice-Chancellor, he will be returning to Nigeria to serve his fatherland.
He is Christian by faith, freedom fighter by action and a democrat by politics. He is very happily married with good children.