Articles
STAFF - SECURITY UNIT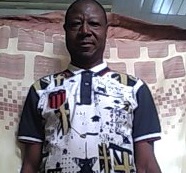 AKINRINADE, Adebisi. A.
Security Officer I
Faculty of Law, Ifetedo

Email: adebisi.aknirinade@uniosun.edu.ng
My name is AKINRINADE Adebisi. A.
I am a native Yakoyo, Via Ipetu modu, Ife North Local government of Osun State.
I was born on 1th December, 1970.
I am married.
 Supervision of Security Personnel.
 To safeguard the University resources.
 To keep vigilant on Students on Campus.
 And any other assignment assign to you by my boss.
---
Akorede Taofeek Abiodun
Security Officer II
Room 108, Admin Building, Main Campus
Email: taofeek.akorede@uniosun.edu.ng
Mr. Akorede Taofeek Abiodun received Higher National Diploma (HND) in Statistics at Osun State College of Technology, Esa-Oke in 2008, National Diploma (ND) in Statistics at Osun State Polytechnic, Iree in 2004, Diploma in Computer at Winners Computer School, Mararaba, Abuja in 2010 and Diploma in Scientific Data Management at Oriental Computers, Wuse II, Abuja in 2010. He joined the service of Osun State University in 2015, and currently a Security Officer II in Security Unit of the Vice-Chancellor Office. He has served the University in different capacities such as co-opted member of 4th, 5th and 6th Convocation Organising Committee among others. He hailed from Ikirun in Ifelodun Local Government of Osun State. He like gathering intelligent information, playing football as well as listening to programmes on radio.

JOB DESIGNATION:
1. Campus Safety Officer
2. Liaison Officer between the University and Security Agencies
3. Conflict resolutions between students and people in University environs
4. Supervision and Coordination of Guards activities (duties)
5. Generating intelligent reports on Security matters within and outside the campuses on issues relating to Staff, Students and communities
6. Maintenance of threat free environment
7. V.I.P Protection
8. Investigation and intelligent gathering
9. Security forecast and report analysis