Details

Category: Profile
Created on Friday, 10 November 2017 09:16
Last Updated on Friday, 10 November 2017 09:18
Published Date
Written by Support
Hits: 56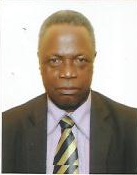 OJO, Adeleke Araoye
Acting Dean, Faculty of Education
Room/Office No: 113, Department of Nursing Science, College of Health Sciences
adeleke.ojo@uniosun.edu.ng
1. Born in Odeomu, Osun State in 1941 and attended University of Ibadan 1974 – 1977 (B. Sc. Nursing, 1977);
2. Attended Obafemi Awolowo University, Ile – Ife, 1980 – 1985 (M. Phil. Medical Sociology) and University of Ibadan 1986 – 1991 (Ph. D. Health Education);
3. Worked as Nurse Educator at OAUTHC, Ile – Ife (1978 - 1991) and rose to the post of Assistant Chief Nurse Educator;
4. Transferred service to Obafemi Awolowo University, Ile – Ife, 1992 and rose to be Senior Lecturer where he served as the Head of Nursing Science department during periods of 1993/ 94; 2002/ 03 and 2004/ 05;
5. Served as an Associate Professor (on sabbatical) at Moi University, Eldonet, Kenya in 2001/ 2002;
6. Had supervised many post Graduate students in Nursing;
7. Retired from Obafemi Awolowo University, Ile – Ife, in 2007 as a Senior Lecturer and appointed as a visiting Professor of Nursing at Igbinedion University Okada, in 2007;
8. Promoted to be a Professor of Nursing in 2009 and served as the Head of Nursing Department, Okada, 2007;
9. Appointed as Dean of Post Graduate School in 2011; Director of Academic planning from 2010 – 2015 and resigned in 2015;
10. Appointed as Professor of Nursing, College of Health Sciences, UNIOSUN in 2015 till date.
JOB DESCRIPTION
1. Teach Medical / Surgical Nursing, Foundation of Nursing etc and participate in examination of the students
2. Provide leadership for academic and administrative running of the department
3. Attend and actively contribute to Faculty, College and University meetings
4. Serve in constituted committees to resolve challenges at various levels
5. Lead and participate in staff and student professional counseling and monitoring
RESEARCH WORK


1. Knowledge, Attitudes and Practices of Health Care Providers in the Clinical Settings
2. Care receivers compliance behavior studies
3. Assessment of Nursing Care Standards in Nigeria.