Details

Category: Profile
Created on Wednesday, 26 July 2017 13:21
Last Updated on Sunday, 01 October 2017 23:36
Published Date
Written by Support
Hits: 361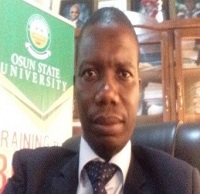 Dr. Amos O. POPOOLA
Associate Professor
Room 001, Angola, Main Campus

Email: amos.popoola@uniosun.edu.ng
Amos Oladele POPOOLA holds B. Tech (Mathematics, 1999), M. Tech (Applied Mathematics 2002) and Ph.D (Applied Mathematics, 2007) degrees from Ladoke Akintola University of Technology (LAUTECH) Ogbomoso, Nigeria. He started his academic career at Ladoke Akintola University of Technology Ogbomoso, Nigeria in 2002 as a Teaching Assistant, and he rose to the position of a Senior Lecturer on 1st October, 2010. Dr. Popoola joined the services of Osun State University Osogbo on 7th January, 2011 as a Senior lecturer. He was promoted to the position of an Associate Professor of Mathematics in the Department of Mathematical and Physical Sciences on 1st October 2014.
Amos Popoola actively participated in
(i). LMS-EPSRC Short Instructional Course in Continuum Mechanics in Biology and Medicine, University, College London, United Kingdom, [June 2012].
(ii). LMS-EPSRC Short Instructional Course on Stochastic Modelling in Biological Systems,
(iii). St Anne's College, Oxford University, Oxford England United Kingdom [March 2012]
(iv). LMS-EPSRC Short Course on Theoretical Fluid Dynamics, Herriot-Watt University, Edinburgh Scotland, United Kingdom [September 2011].
(v). Foundational Postgraduate course in Differential Equations and its Application to Physical & Biological Problems, National Mathematical Centre, Abuja. [May 2006]
(vi). Foundational Postgraduate course in Econometrics, National Mathematical Centre, Abuja. [February 2002]
(vii). Research Oriented Courses in Fluid Dynamics III, National Mathematical Centre, Abuja. [August 2001]
(viii). Research Oriented Courses in Fluid Dynamics II, National Mathematical Centre, Abuja. [August 2001]
He also attended some academic programmes organized by Isaac Newton Institute for Mathematical Sciences, University of Cambridge for (UMCW04) [November,2014], and Institute of Mathematics and its Applications (IMA) at Queen Mary University, London, [November 2014]
Amos Popoola is
(i) a member, Nigerian Mathematical Society (NMS) 2002-Date
(ii) the Treasurer (Nov. 2010-Nov. 2017), Nigerian Association of Mathematical Physics (NAMP)
(iii) a reciprocity Member, London Mathematical Society (LMS). (2007-Date)
(iv) a member, International Association of Engineers (IAENG), Hong Kong.
Amos Popoola specializes on mathematical modelling and combustion theory. He teaches courses in both pure and applied mathematics.
He also supervises undergraduate and postgraduate students. Besides, he serves as Acting Dean (2016/2017), Faculty of Basic and Applied Sciences (FBAS), Osun State University Osogbo Nigeria.
---

Dr. OJURONGBE Taiwo Adetola
Senior Lecturer
Room 311

Email: taiwo.ojurongbe@uniosun.edu.ng
I obtained my B. Sc and M. Sc. in Statistics from the University of Ibadan and my PhD in Biometry from Justus Liebig University, Giessen, Germany. I worked as a data analyst and research supervisor at the International Institute of Tropical Agriculture (IITA) for about six years before joining the University system. My research areas are Biostatistics, experimental design, statistical modelling and infectious diseases modelling.
I teach Statistics and Mathematics courses at undergraduate and postgraduate levels. I'm also involved in the supervision of students' projects. I am currently the level adviser to 100 level students in my department. I'm involved in related researches in the field of statistics.
My major areas of research are Biostatistics and statistical modelling. These fields have given me the opportunity of applying statistical methods in the agricultural, medical, environmental as well as biological sciences to make meaning out of real life situations and using it to project into the future.
Some of my findings have revealed some hidden properties of some known measures of classification. Establishing the effect of some indices used in statistical analysis.
Modelling of infectious diseases has also given me the opportunity to suggest solutions on how to curb the spread of such diseases in specific environments.
---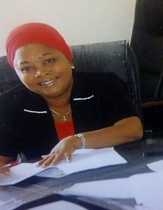 Dr. ADEBISI Ajimot Folasade
Lecturer II
Mathematics Laboratory, Tetfund Building

Email: fola.adebisi@uniosun.edu.ng
Dr. A. F. Adebisi received Bachelor of Science degree in Mathematics from University of Ilorin, Ilorin in 1999, M.Sc Mathematics in 2008, Ph.D Mathematics in 2015 from the same university.
She has taught in several secondary and tertiary schools both within and outside the state. She joined Osun State University as an Assistant Lecturer in 2014 and currently a Lecturer II in the department of Mathematics. She is also a member of Examination and Lecture time table Committee, a level advisor and a coordinator to some courses.
Her research area in Mathematics is in Numerical Analysis majoring in Ordinary Differential Equation and Integro-differential Equation.