Nigerian Securities Regulatory System Has Failed … Professor O.O. Oladele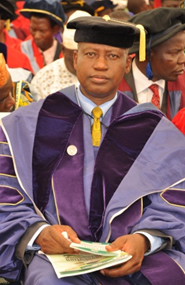 A Barrister of the Supreme Court of Nigeria and Professor of Business Law as well as Provost of the College of Law, Osun State University, Professor Olayiwola Owoade Oladele, has said that the Nigerian Securities Regulatory System has failed.

The Barrister made this assertion while delivering the second inaugural lecture of Osun State University titled, 'How Secure Are Securities?' at the Main Campus, Osogbo. According to him, 'the Nigerian securities regulatory system has failed partially to keep numerous corporate investors informed of the material securities information and the rights that attach to the corporate securities that they have invested in against the backdrop of the propensity of securities issuers to conceal and mystify material information.' He added that the regulatory system has not solved the problem of informing retail investors who, more often than not, lack the means and technical ability to have, understand and utilise material securities information.


He observed that in the past two years, the market was driven not by market fundamentals but by speculative frenzy. He said that, 'The ingenious zealousness of some securities issuers to conceal information and their outright falsification of financial statements has potential and real systemic impact.' He then recommended rigorous law enforcement and stiff penalties for the violation of rules and regulations governing the securities market and that Nigeria must position itself for global competitiveness in order to attract investmentby reviewing her laws to cope with the current challenges to the security of securities.
Professor Oladele is the pioneer Provost of the College of Law. He graduated in 1983 from the University of Ife with the Bachelor of Laws (LLB), honours, degree. He was called to the Nigerian Bar in 1984. He subsequently bagged Master of Laws (LLM) degrees of the University of Ife (1987) and Georgetown University (2000) respectively as well as a Doctor of Philosophy (Law) of the Obafemi Awolowo University (2007).

Professor Oladele joined the Department of Business Law, University of Ife (now Obafemi Awolowo University) as a Junior Trainee Fellow in 1985. He was appointed a Professor of Business Law on March 19, 2010.
Professor Oladele is married to Oluremi Abiodun Oladele (nee Alabi) with whom he has two children, Oludolapo Abimbola and Oludamilola Temilola.
Files: