College of Health Sciences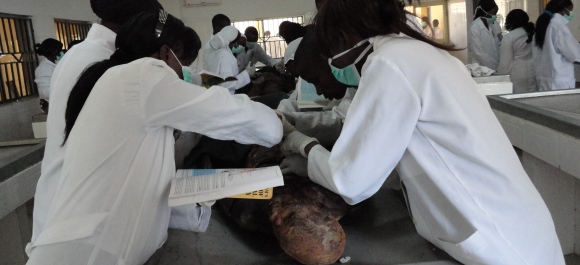 BRIEF HISTORY OF THE COLLEGE
The College of Health Sciences is one of the pioneer Colleges of Osun State University,
established at the inception of the University in September, 2007. Although the College has accreditation by the National University Commission to offer MBBS degree, the program was suspended during the 2012/2013 academic session due to lack of dedicated teaching hospital.
The College currently offers BSc Anatomy and Physiology, with plans to offer three (30 additional programs by 2014/2015 academic session, including BSc Pharmacology, BSc Public Health and BNSc Nursing.
The College took off with the pioneer Provost as the only academic staff, but by the second year, it had two Professors and eight Lecturers and Assistant Lecturers to handle Basic Medical (PreClinical) Science programmes. The College now has four Professors, three Senior Lecturers, Lecturers and Assistant Lecturers. The academic staff is supported by a College Secretary, Technologists, Senior Laboratory Assistants, laboratory Attendants and Clerical Officers.
There are functional laboratories in the College that serve the academic programmes of the Departments. The laboratories are well equipped to cope with the teaching of students and researches of the academic staffs.
Classrooms and Lecture rooms are adequate and comfortable for teaching.
In 2012/2013, the Visitor to the University suspended the MBBS programme of the College and transferred the stagnated pre-clinical students to complete their medical training in Ukraine due to lack of a teaching hospital, with the hope to re-commence the program when funds are available to provide a benefitting teaching hospital.
The BSc Anatomy and BSc Physiology students registered in the College offer same courses as their colleagues in the Science Faculty at 100 level, but start to offer courses in relevant disciplines from the 200 level.
Presently the College consists of the following faculties:
Faculty of Basic Medical Sciences consisting of the following departments:
Anatomy
Physiology
Pharmacology
Faculty of Basic Clinical Sciences consisting of the following departments:
Pathology
Chemical Anatomy
Morbid Anatomy
Faculty of Clinical Sciences consisting of the following departments:
Community Medicine
Internal Medicine
Surgery
Obstetrics and Gynaecology
Paediatrics
Psychiatry
Ear, Nose and Throat
Ophthalmology
Nursing Science
Public Health
The academic programme of the College operates academic curricula that are tailored along the stipulations contained in the National Universities Commission (NUC) Benchmark Minimum Academic Standards and the Medical and Dental Council of Nigeria.